My Passage To India
February 2016
I was in India this past month. Long on my bucket list, it did not disappoint.
When I'm asked by friends to describe my trip, I respond that it was sensational. The senses were assaulted from arrival.
Yes, all senses were involved- my eyes saw the marvelous beauty of the Taj Mahal, the majesty of the India Gate, and the multi-colored and textured human display plying the ghats down to the sacred Ganges in Varanasi both at dawn and at twilight. The smell of that very site as funeral pyres smoldered in proximity to incense burned during prayers, the smell of the grilled food and curry and animal waste all mingling as they waft through streets and alleys across the country. And sounds? The quiet murmuring prayers of the faithful and the steady beat of the raga caught during lulls in the incessant honking, the persistent bellows of the merchants, and the sputtering and gasping tuk-tuks jamming the streets. The tastes of those curries obviously internalize those smells. The tastes of the carefully washed, peeled, and cut fruit are sweeter in the heat. A cold Kingfisher dripping with condensation tastes great after any long walk and a Bombay and tonic takes on a real special throat-soothing taste out on the veranda in the evening. And the sense of touch? Digging your hands into the water at the Ganges shore, putting your hands on the cattle as they wander the street, and, yes, almost touching the thick air filled with the airborne bits of all of it. It's truly a sensational adventure.
Of course, an essential on this and any adventure is the facilitation. Here are a couple of highlights that you should consider on any trip to India:
The Ahuja Residency- my Delhi home- was excellent. They were there and ready as I arrived at about 2:45AM. Breakfast daily. Great pleasant neighborhood in proximity to India gate, Khan Market (a several block are of dining and shops of all kinds), and the Metro. Clean, comfortable and reasonable. It's a great place to base in Delhi.
Take the Old Delhi morning bicycle tour. Your eyes will be wide opening watching the area awake. A breakfast you might not order yourself is provided- as is a separate tea. This is a great ride to stop and buy some small items for friends at home. My guide was a delightful Indian-born Tibetan who followed the NBA- Tenzin Ramjor.
Visit the Taj…and sit back a ways to drink it all in, inside to see the one lone off-center item, and from behind look across to the far side of the Yamuna and think of what might have been…
Ride the Metro in Delhi. Pervasive, (so it carries you virtually wherever you want to go), inexpensive, and absolutely packed with Indians…eager to share a nod, smile or conversation. And yes, "Mind the Gap", of course.
Indira Gandhi International Airport in New Delhi- beautiful. This will surprise you on arrival…guaranteed.
The greatest representative of all India that I encountered? My driver from Delhi to Agra and return- Mr. Gurwinder Singh. He drove through impossible traffic on challenging roadways with ease. And he shared family updates, photos, and comment on the Indian political and cultural scene. I would have hired him to sit on the parkbench with me and just talk.
India is surprising and delightful.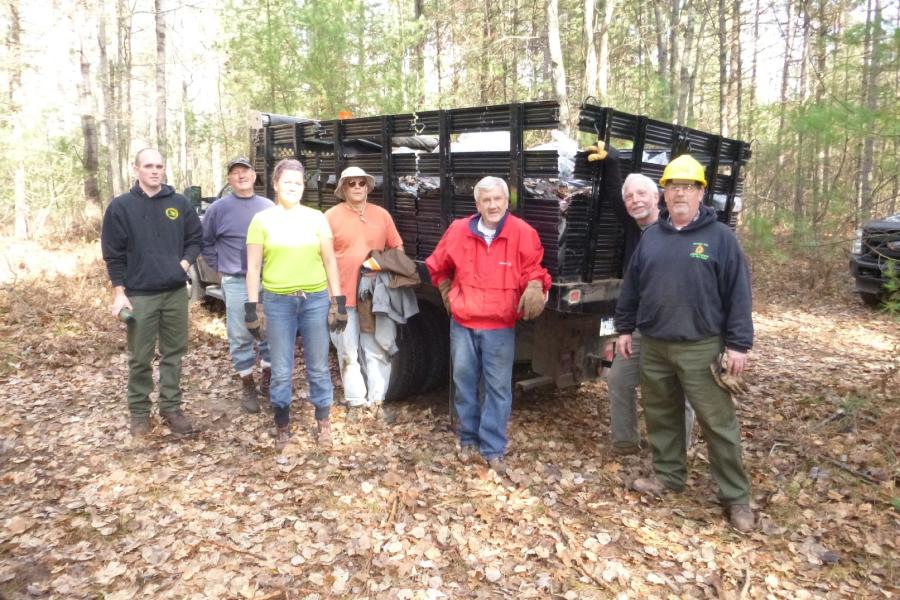 November 2014...near Kingsley, Michigan. After the tough work of cleaning up an illegal dumpsite in Grand Traverse County was done...you can barely see the truckload of old rotting shingles- complete with nails and mold. Volunteers, largely from Bethlehem Lutheran Church assisted State of Michigan workers on this effort. Yes, that's the old geezer in my old, red Northwest jacket... Though offered, I resisted donning a sweatshirt offered by a state worker. I was a little concerned that if I felt light-headed and passed out the "DNR" on the front might send the wrong message. Thank you Michigan Department of Natural Resources!
October 2014- A Little Road Trip to Tennessee and North Carolina
Just a quick note to comment on a recent visit to Smoky Mountain National Park and the Asheville, NC area, including a stay at the Omni Grove Park Inn.
Hiking in the park was wonderful. Of course, my wife, Jana, and I were accompanied by thousands of other leaf-peepers on the roads throughout, but once you park and get out there on a trail, the crowds thin quickly. Especially when you take one trail into a site and find another trail that you "think" goes back to where you came from as well. Of course, it does not. You end up in an unfamiliar parking area...and then explain how this is the very best kind of adventure...knowing that you are "somewhere"...with plenty of time to discover exactly where before darkness descends. Though we ourselves did not see bear, we did see deer, plenty of wild turkeys, and a Copperhead. The drizzle and rain we encountered was a bother, but did not diminish the experience at all. One tip- from my perspective- avoid Pigeon Forge and Gatlinburg...and opt for Townsend. The Best Western Cades Cove Inn is very well positioned and welcoming. Avoid oldsmokymountaincabins.com.
Asheville. Yes, of course, visit the Biltmore Estate. But also, treat yourself to the downtown Asheville Urban Trail. You'll learn just enough about some famous writers to have you checking for more detail. You'll see some very, very interesting architecture and wonderful streets that you might otherwise miss. And you'll find restaurant, coffee shop, and bar venues galore. And, also check out the River Arts District. We loved Asheville.
A significant part of our Asheville visit was the historic Omni Grove Park Inn. Turning through residential streets...my GPS said only a quarter mile from my destination I was getting a bit worried that I had made an unwise choice. But as we crested the hill and turned left...the Grove Park loomed, impressed, and welcomed. Luckily for both them and me...my confusion with their website golf packages had almost sent me away...save for finally being transferred to Sam Dawkins, Manager of Golf Sales. He explained the packages; he touted the Grove Park Inn; he underscored the lure of the Asheville area. He made it happen. In fact, Sam followed up and greeted us on arrival for our first tee time. He sold this trip...and our next one to Grove Park. The facility delivered in every aspect. If you are going to Asheville...go to the Grove Park Inn. You will enjoy it.
***
Is a big international travel adventure still the exciting, enlightening, experience is should be...or has the TSA, airline foibles and fees, a dearth of customer service at accommodations and generally boorish fellow travelers made it an unpleasant marathon to be endured? Let's see how it goes in FEB... I'm off with a small group of friends from the Traverse City, Michigan area to New Zealand with a return stop in Tahiti. I'm just going to share a daily highlight or two... Fasten your seatbelt. Stow your tray table. Let the subtle fight for the armrest begin!
1FEB-
I checked over the plans... I think we're good...though that pesky International Date Line lurking our there in the Pacific riding the waves always requires some careful thinking. The overnight flight from Los Angeles takes two days!? And returning I spend the night of the 19FEB in Auckland...and then again in Tahiti!? Just a little trepidation on the impending "wrong side of the road" driving...through the mountains...in a rented van...that I hope is there at the Auckland Airport. I'm sure it will all work out. No problem.
2FEB-
Packing day... Pack. Tell yourself you can take only half. Re-pack.
03FEB-
And off! Delta TVC-DTW-LAX... The highlight- a brand new 737-900 with excellent on-board in-seat passenger audio/video amenities, a pretty comfortable seat (though I'm Hobbit-sized), and Diet Coke. The low-light- The Crowne Plaza LAX (F). I had e-mailed a Sales Manager by name after securing his name and e-mail in a call to the front desk- asking about early check-in and late check-out. No response. And there was major renovation that closed the restaurant that I did not see mentioned on their website. Very inconvenient.
04FEB-
And off across the Pacific on Air Tahiti Nui... A seating snafu that the gate agents said "happened all the time"...that they seemed as tired of dealing with as I was irked by not getting seats chosen 8 months earlier. On board...flight attendants that did care...and it showed.
05FEB-
A quick stop in Tahiti...welcome dancers and music...and a $4 Diet Coke in the transit lounge.
06FEB-
Arrival in Auckland...and the Novotel (A) is right there across the street! Excellent! Go Rentals for the two rental vans for the group...and the first anxious minutes driving on the wrong side of the road. Left. Left. Left. Oh shit! A roundabout! Dinner at the hotel and a full night's sleep.
07/08FEB-
And off to the north and Bay of Islands. The road was narrower and much more twisting- and thus slower going- than I expected. None the less, a nice drive. Finally reaching Paihai, we gawked eagerly for the Millennium Copthorne Bay of Islands Resort (A-). We seemed to be driving all through town... One wring turn and finally a question to a local who pointed the way (and every Kiwi was eager to help; without a single exception). Across the one lane bridge... My first impression was the property was "a bit tired"...but those with me were pleased. And it was adjacent to the Waitangi Treaty Grounds (Where the treaty celebrating the creation of modern NZ was signed in 1840, just the right distance from downtown (walkable), and in the glorious sunlight of the following day was brighter and better. Special mention here of the Hangi and Concert at the Waitangi Treaty Grounds... Superb! Also, absolutely take the ferry to Russell and enjoy that charming town across the bay. Lunch or just a beer on the porch of the Duke of Marlborough Hotel...and visit Christ Church...the oldest church in NZ. We ate several places...but for value, view, and tasty food...Upper Deck! Oh yes, the flat tire... The 6FEB was Waitangi Day itself and a national holiday...most non-tourist places closed for the 6-9FEB- s nice long Kiwi Weekend. On the morning of the 8FEB, I called the Goodyear tire store in Kerikeri to see about fixing a flat...as everything in Paihia was closed. I caught the owner who happened to be in doing bookwork. He listened to my sad story...and said "come on then and I'll have a peek". He gave me directions and I was there in a half hour. He determined the tyre was irreparable, found me a suitable used replacement, mounted it, and gave me a 50% discount... I had to beg him to take a small tip. The Kiwi welcome is everywhere!
09/10FEB-
And back through Auckland to Rotorua... Again here the Novotel (A) which is right there across from the park, near the shore of Lake Rotorua, and not 50 yards from the many, many restaurants on a pedestrian Fenton Street. No recommendation here... We tried three and all delivered. Enjoyed a great tour at Te Puia, a Maori Arts and Crafts Institute, complete with the Pohutu geyser and plenty of other spewing, steaming activity as well as hands-on weaving, the carving school up close, and a lunch steamed right there in the waters of the hot springs. Carla was our outstanding guide. She took great pride in sharing her Maori ancestry and sharing comment on today's New Zealand.
11FEB-
On to Wellington...and the "Te Papa"...The Museum of New Zealand Te Papa Tongarewa. Not a penny to get in...and days worth of exhibits to explore. We, of course, had only hours... Take the guided intro...and hold on the map where you have noted your "must see" exhibits. Overnight at the Millennium Copthorne Oriental Bay (A)...
12/13FEB-
Early in the AM we pulled on queue for the Bluebridge ferry to the South Island. Booked online...no problem. The crossing was beautiful and easy with plenty to entertain and eat onboard. Into Picton and off with no problems. With the early AM start, ferry, and longish drive...this day was scheduled a bit too long. We made Franz Josef on our last sip of petrol. If repeating, I would plan a much shorter day and an overnight in Nelson or in the wine country en route to Greymouth. Cooler than anticipated here in the West on the Tasman Sea...and fog, drizzle, and such was with us the following AM as Franz Josef Glacier Guides led us on a hike to the glacier. We just did the hike up to the glacier view...but many, many others were taking the helicopter trips over the glacier and Mt. Cook...or to land on the glacier for a visit.
14-16FEB-
Millbrook Resort (A) near Arrowtown...Queenstown. We golfed Millbrook. We rode the Shotover Jet jetboats. We took the Skyline gondola. What a place! Yes, of course, shopping and dining as well... For eight of us we had arranged a four bedroom house at Millbrook at it was great fun to do some of our own cooking, lounging, and watching the Olympics.
17/18FEB-
On to Te Anau. I had booked Radford's Lakeview Motel (A+) well in advance and had talked to Kerri on the phone. "No worries" was the answer... Their website notes they were the best hosts in the country in 2013... I started expecting something special. Well, they have 2014 locked up in my book! If there's a more welcoming place in New Zealand I'd be surprised. Eight for dinner at Redcliff? Lovely! Organizing the Glowworm caves... Brilliant! Fiordland Tours to Milford Sound... Delightful! She did everything but tuck us in...I just didn't think to ask... So check out TripAdvisor and anything else...many of the comments going up now will be from those who visited with me. Kerri, Steve and the team at Radford's deliver...all day...every day.
And a special mention to Alan from Fiordland Tours who shepherded us to Milford Sound and showed us all those special spots along the way. Another great welcoming Kiwi who shared so many great stories with us. We're all wishing you the best as you sit back, open that cold beer, and look out over Manapouri.
19FEB-
Back to Queenstown and a JetStar flight to Auckland...and we changed our overnight to the Novotel after our initial stay...
19/20FEB-
Air Tahiti Nui to Papeete...and the Intercontinental Resort (B). Yes, 19FEB again as we crossed the Date Line... Found a functioning ATM on arrival for cash. Nothing else open at about 9:30PM. The taxi lane was a "goat ****" on arrival. No order at all.
Intercontinental was a little tired...and somehow seemingly caught off-guard by late arriving (and late departing) pax. no idea how this could be given Air Tahiti Nui's schedule. Lobby Bar hours were odd... Were we spoiled in NZ with all that welcoming attention?
Downtown a bit disappointing. If there is a next time...maybe Moorea or Bora Bora?
21/22FEB
On to LAX and a hotel switch to the Sheraton Gateway (A) for our return layover. A superior operation. Ate at Paparazzi... Great food.
And so, New Zealand was varied and wonderful (have two full weeks minimum). Kiwis are genuinely welcoming. Bring money...$7.50 per gallon gas (that's petrol in litres there of course)...and then you have to eat! Skip Tahiti.
Travel Weekly posted my Opinion on ending the travel ban on Cuba...and Travel Weekly's own comment on OCT 29 endorsed my view.
http://www.travelweekly.com/Articles/Its-time-to-rethink-our-Cuba-policy/
http://www.travelweekly.com/Editorials/What-were-we-thinking/
Nothing opens doors, minds, and discussion like travel...
It should simply not be hindered.
My people-to-people visit to Cuba SEP 19-26...was excellent. Jorge showed us all Havana, Vinales, Santa Clara, Remedios, and Caibarien... I posted an article on
www.TravelForBoomers.com
on OCT 17 titled "So Close and Yet So Far Away. Viva Cuba!"
Here it is:
So Close and Yet So Far: Viva Cuba!
I have just returned from a wonderful trip...a trip back in time. It was the fifties or sixties, but this was no "Life of Riley"...no "Adventures of Ozzie and Harriet". And the time machine wasn't working perfectly, as somehow bits of the 1880s and 2010s crept onto the scene as well. It was confusing and exhilarating at the same time. It was Cuba.
There are limited opportunities for Americans to visit today due to our continued embargo against Cuba. Legally, Cuban-Americans can apply to visit family and also, others can visit via limited "people-to-people" tours that focus on cultural and historical sites and activities throughout...no scheduled breaks at the beach. Oh yes, illegally, by traveling via Canada, Mexico or another Caribbean nation to get to Cuba. The air travel is one thing, but the U.S. OFAC (Office of Foreign Assets Control) allows no spending of dollars in direct support of the Cuban government. If you go illegally, you could face some significant problems on your return. So the adventure today is to embrace the people-to-people opportunity and spend every minute possible on the street and in the markets meeting the Cuban people as one of a small number of Americans able to do so.
My "people-to-people" experience began at Jose Marti Airport in Havana where the parking lot provided an immediate first look at those cars of my youth. My favorites...the 1957 Chevy with those tall, rigid tail fins and the 1959 Chevy with those tail light "eyes"...and there were plenty of vintage DeSotos and Plymouths and Fords as well. Some not only defying over 50 years of wear, but also reflecting 50 years of home-jiggered parts reflecting monumental ingenuity.
I visited several of the iconic spots that are a must in Havana. First stop was Revolution Square. This is the area that you have seen the most in video clips of Fidel delivering one of his famous five or six hour speeches. In front of the monument to seminal Cuban patriot Jose Marti is a plaza of at least a couple city blocks. On the fronts of the two large buildings in the back are the outlines of revolutionaries Che Guevara and Camilo Cienfuegos (at night they are outlined in blue lights). Che is omnipresent across Cuba, while compatriot Cienfuegos is harder to find. At the same time, it's very rare to see any images of Fidel or Raul. Our guide stated matter-of-factly that the Castro brothers are just not given to that. A drive along the Malecon (miles of breakwater, sidewalk, and an extended bench where thousands gather at night to talk, sing, and mingle) with a view of Havana harbor, El Morro and the Mirador lighthouse across the water is unforgettable. Just like Lucky Luciano and other mobsters did in the late 1940s, I watched the show at the Hotel Nacional where the Buena Vista Social Club still echoed through the music of Grupo Compay Segundo.
Much to see and experience is held in the confines of Havana Vieja (Old Havana). The architecture is exceptional though the paint is faded and a close look calls out for both cosmetic and some structural help. What it was...and can be again...is exceptional. The Capitole- modeled after our own- was under restoration. Strolling the Paseo de Marti, walking down any street from the Plaza de Armas, and, of course, just stopping in at any local tap for a cold Cristal and a fractured conversation in bits of my poor Spanish and a new friend's challenging English is still a people-to people victory. The Alexei Ramirez baseball cards and Marlboros I brought helped start the conversation and were welcome.
The monument to those lost in the sinking of the USS Maine, the bust of Lincoln in Friendship Park, and the bronze statue of Ernest Hemingway in the corner of his favorite bar, Floridita, ("The cradle of the Daiquiri" on Calle Obispo in Old Havana) are all clean and grafitti free.
My itinerary made two significant forays outside Havana as well. First to the Valle de Vinales and visits to a small tobacco farm and a fledgling organic farm. At the former we watched our host chop some tobacco, roll it, and share with delight in our "Big Smoke" as we sampled his product. At the latter we listened to a proud farmer walk us through his multiple efforts from the porch of his home. Stops in the smaller towns of Vinales to the west and Remedios and Caibarien to the east, delivered the opportunity to see oxen pulling plows in the field, horses in the village streets, and patient travelers by the hundreds standing by the road seeking rides.
Change is coming to Cuba. Property rights are expanding, private restaurants (paladars) are multiplying, and technology brings access and the inescapable subtle demand for yet more of the same.
An accomplished guide can make or break a travel experience. Our guide was knowledgeable and personable. A proud Cuban, he acknowledged that all governments can get in the way of their people. He freely shared full responses to all of our questions- on the Bay of Pigs, the missile crisis, on the challenges of everyday life in Cuba today. He educated us. He amused us. He challenged us. "Cuba has never invaded the United States". "If Cuba were calling the shots during the missile crisis we would have demanded the U.S. leave Guantanamo, not take missiles out of Turkey". And when asked about significant remaining restrictions and prohibitions in Cuba, "Welcome to my world" was his response with a smiling shrug. When we asked why so few Americans can come to Cuba, "That's your world!", he grinned.
If you're looking for something different...only 90 miles and yet a world away...is Cuba.
And now is the time to make your visit. Viva Cuba!
************
On OCT 11 the Traverse City Record -Eagle ran the following editorial:
http://record-eagle.com/ourview/x1684125508/Editorial-Airport-must-find-long-term-partner
They missed the mark...in fact the barn. No mention of the Essential Air Service dollars (roughly $2.3MM) that continue to be spent on this ill-conceived and wasteful effort. I responded:
http://record-eagle.com/forums/x674148771/Forum-Demise-of-airport-an-economic-reality
EAS itself must "sunset" with two further caveats... If the DOD or DHS intervenes for national security issues...I can accept that. And the "sunset" should be advised with some reasonable space for communities and airports to plan...possibly 18 months...for its demise.

Of course, still want some key small airports to succeed- they just have to accomplish that by building a program with the local support that is present. If large users of air service offer passenger guarantees, if other entities offer hard dollar guarantees, if new initiatives are instituted...service can continue and grow.

************

OK, the Travel Bug in the Traverse City Record-Eagle for June will feature a glimpse back at Northwest-

STRIKE ONE; Pinch-Hitting at the old Northwest
I spent over 18 years working for Northwest Airlines. It was a different time in the airline business.
When I started in Sales as a management employee, all management personnel were also trained as flight attendants just in case- ostensibly so the local Station Manager or another management employee could fly in place of a sick flight attendant so the flight would not be canceled due to less than minimum crew. Makes sense when you fly all over small, weather-challenged stations in the Dakotas, Montana, and Alaska. Of course, it's a great bargaining tool during flight attendant contract negotiations as well. "If you strike, we'll fly without you. We have hundreds of trained personnel." Northwest prided itself on never winning any labor relations accolades.

I reported to my first Sales assignment in Chicago on March 15, 1982. In May I was on strike duty in Detroit. As a trained and FAA certified graduate of flight attendant training- yes, a veteran of shooting down an inflated slide and opening a life raft in the deep end of the pool- I was well prepared to ensure safety on a flight. Of course, the members of the International Association of Machinists, representing mechanics and baggage handlers, were the ones threatening strike action at midnight. We management types reviewed our manuals on operation of chemical fire extinguishers and applying tourniquets. Just before midnight, the Station Manager assured us, (cleaned up for this family newspaper) "Those...idiots are not going to...go. No...way." At about ten seconds after midnight all of the ground equipment came to a stop in front of his large window overlooking the field. Ramp personnel dismounted; pulled all the spark-plug wires; tossed them into the air along with the ignition keys...and walked off. We "sprang" into action.

With a "whale" (747) arriving in less than an hour on a Copenhagen- New York- Detroit- Minneapolis flight, we had a lot to do. We practiced with loaders as soon as the supervisory management mechanics got them running again. It seemed like seconds until the huge 747 turned the corner and came into the gate. My assignment was the rear baggage compartment close by the tail. I backed up my loader, climbed it, unlatched the compartment and opened the door. As I reached in to turn on the light...I heard a pronounced angry growl. The light flashed on...and there I saw a kennel lying sideways...door open...and a huge wolf (possibly a German Shepherd) standing up on two legs and showing a full set of teeth. I was not trained for this. I turned off the light and shut the door. Fritz was going to Minneapolis...along with whatever baggage was also in the tail section. They could deal with him it the daylight.
The 747 was scheduled to be on the ground about 45 minutes. We didn't do too badly. It took us about two hours to do our best and send it on its way. So, just after 3:00AM we staggered out the door and to our hotel (where the manager had left the bar unlocked). We relaxed. We headed to bed. At 5:30AM, shortly after I dove into a deep sleep the phone rang. The news was grim. BRAC, the Brotherhood of Railway & Airline Clerks (that's ticket counter folks) was honoring the IAM picket line for day one. "Have you ever actually written a ticket?" the desperate voice asked. "Yes" I croaked. "Get to the terminal now!" it directed. Accepting tickets, assigning seats with stickers, and checking baggage was not a problem; not adept at Northwest's Polaris system, figuring out ticket prices was more challenging. Thus, the code I used on most tickets was "NB-IMIU" (Nature of the Beast- I Made It Up). I'm almost certain Northwest Revenue Accounting let any ticket issued that day go unchallenged. Thankfully, BRAC's sympathetic Joe Hill moment lasted only that one day allowing me to concentrate on developing my ramp skills. I drove and operated the "honey wagon"; assisted in fueling aircraft; unloaded shipments of currency from the Federal Reserve Bank with armed guards standing by, bags and bags of mail, caskets, crates of live baby chicks, and carriers full of dogs, cats and one with a monkey. We sent most of it to the right destination!
The strike lasted about a month. The memories are obviously still with me. I'm sure not much was gained on either side. The airline business is smooth as silk nowadays, right? See you at the airport!


Yes, from the Traverse City Record-Eagle's MY GENERATION "Travel Bug" for MAR 2012...
Speaking of the weather...
Whether the Weather is Cloudy or Bright
Weather is a topic that has universal appeal...it's everywhere. I've experienced quite a variety of weather along the way from a frigid windswept Fargo to the sweltering summers of Washington, DC...and a host of oddities in my travels as well. Rule One in weather forecasting, first articulated by Doris Day, is "que sera, sera". That's right, "what will be, will be". The weather may do what we are told to expect; it may not. Regardless, the National Weather Service and your local weather prognosticator will be back tomorrow to give it another crack. My childhood weatherman in Fargo, Dewey Bergquist always advised, "Never bet on the weather".
The next constant in weather is that every locale across America and beyond feels their weather is the most changeable anywhere. You know the line..."Don't like the weather? Just wait a few minutes and it will change! That's (insert locale here)!" This is usually followed by knowing guffaws and some head-nodding agreement of all locals present. Happens in Empire...in Thief River Falls, Minnesota...and yurts across inner and outer Mongolia.
Back in Fargo, Dewey would give us the weather the old fashioned way, no percentage chances that he was correct...he was 100% correct- until he wasn't. I'm convinced he barely consulted the radar and other National Weather Service information. For clarity, Dewey just went up on the roof of the Pioneer Life building and looked west for the immediate forecast. "Hmm...looks like rain", he'd nod. For tomorrow's weather, he simply called a friend in Bismarck (200+ miles west) and asked, "How's the weather out there?". Dewey was just as accurate as anyone. He was also the first person ever to forecast "snirt". "Snirt" is the nasty mixture of snow and dirt blowing unhindered off the prairie into Fargo from Alberta, Saskatchewan and other points west. Snirt was special. Coming in from a howling snirtstorm we all looked like our mascara was running or maybe a pack of giant raccoons.
Being a weatherperson is great training for many subsequent career moves. Dave Letterman realized it was a "schtick" and took it to late night strickly for laughs. One of Dave's first gags was reporting conditions and weather-related calamities in Indiana towns that did not exist. "While it's approaching 50 in French Lick today, it will 85 in Norwegian Lick- shattering the old record from 1811!" Locally, Greg MacMaster correctly identified it as the path to politics...where being right is also quite elusive and zaniness is the order of the day. Sometimes for fun I imagine various celebrities as weatherpersons. Newt Gingrich. Lady Gaga. Alfred Hitchcock.
Virtually everyone hopes for sunny skies on that winter vacation, but weather is a part of the travel experience for me. I experienced a sandstorm in Timbuktu, followed by a freak rainstorm- which brought the rats from their sanctuary under centuries old mud huts to sprint for the high ground near the camel market with me. I wore a hat, sunglasses, lip balm, sunscreen, and covered my face with a bandana during that bizarre weather event. Pummeled by grit; drenched; then dry as a bone all within an hour. In Bangkok, I visited a snake farm north of the city one day and as drenching rains continued for the next several days watched the Chao Phraya River rise. Television reports noted the area of the snake farm was underwater. I imagined all those huge snakes purposefully swimming south to renew their acquaintance with me, the guy who fed them Pop Rocks and Skittles. And the time I was in Barrow, Alaska at -60 degrees F. The snow was unbelievably crunchy. The air was unbelievably crunchy! I called on the northernmost automated travel agency in the world. They asked if I arrived with the warm front. Gotta love that arctic humor.
So, the forecast for the immediate future...as always and as we know from our shared early March experience, is remarkable weather. Wherever you happen to be traveling, bring sunscreen- and an umbrella. See you at the airport!
A Peek at the Traverse City Record-Eagles' Travel Bug for DEC-
Cleared for Christmas Take-off!
OK, I'm right out there in the middle of the Christmas flying adventure with you this year. No skirting the issue by driving to Duluth; no opting for a less congested post-Christmas January trip; no alternative Christmas weekend for two at The Homestead. That's right. Whatever the weather, I'll be in line at Cherry Capital awaiting my Delta double connection to Las Vegas on Christmas Eve. (Son Pete is out there trying to make it on the tables mixing it up with Doyle Brunson and Johnny Chan).
It's been years since United Airlines touted "friendly skies". The "friendly skies" today seem to have shifted away from this hemisphere. Call it some type of airline industry El Nino signaling a perverse climate and industry change aloft. Today, after paying a price that seems more like a down-payment on the airplane itself; after you've paid a booking fee, a fee for a guaranteed aisle seat, a fee for checking your bags, and maybe more; after the polite e-mail message advising you that your single connection to Albuquerque you bought has encountered a schedule change and you'll be connecting in Chicago AND Denver for some reason on a newly lengthened 13 hour journey; you get to board the aircraft and note that the overhead bins are already full of huge suitcases larger than any you own, a few dozen duck decoys and, yes, a refrigerator! You're committed now...and as you walk down the aisle hoping for the best...yes...your seatmates in 34D and F grin at your approach. The aisle seat is gone. These two guys look like the play for the Packers. They are dressed in cut-off sweatpants and tank tops. They are wolfing down football sized items from a Taco Bell bag. This is not the time to start an argument and risk a delay that could mean missed connections. Wedge in there and prepare for takeoff!
Ah, permit me just one backward glance at my good old days at "Northworst" (turns out they were the glory days folks!). In the early 80's all of we Northwest Airlines sales people in Chicago (we were "management" so there was no overtime) were assigned to holiday shifts at O'Hare just to assist passengers looking for gates, help them find seating in the waiting areas by seeking out common courtesy from those occupying multiple seats with winter "gear" and assisting passengers in baggage claim. We wore Northwest Santa hats, smiled and pointed. We had a list of all Northwest flights and gates. We carried bags, pushed wheelchairs, and handed out some complimentary beverage coupons and candy canes. We refereed wrestling matches for checked baggage. Bruce Faine sang a Hanukkah song on the P.A. We were jolly elves. The customers loved it. I'm anxious to see the special treats Delta has in store for us this season.
So as we all get ready to take to the skies this holiday season, let's remember the following- Baggage: put your name, home and destination address, and your cell number inside and on a tag outside each checked bag; use tape or yarn to distinctively mark each bag; and sure, go ahead and leave a treat for TSA in the bag. On the aircraft: 'tis the season...make a point of sharing the armrest and reclining your seat slowly and moderately; and bring something to eat, drink and read in your small carry-on. Bring a deck of cards, an extra pen, and, of course, a sense of humor and a sense of adventure. If you're traveling with children, this is no time to limit their GameBoy use...this is a time for extra batteries.
When weather or a mechanical diverts your flight to Des Moines, your flight cancels there and the gate agent tells you matter of factly that they can get you to Albuquerque late night on the 27th, just go with it. It will be a Christmas to remember at the Des Moines Motel 6 with a festive "Gland Slam" dinner at Denny's. And you'll have the grisly story to tell forever at those cocktail parties where the "you'll never believe what the airlines did to me" group huddles near the hors d'oeuvres.
Yes, my fellow travelers, see you at the airport! And to all a good flight!
Brand USA to Lure International Visitors
See the new effort to bring international tourists and their dollars to the USA...and my comment on this new logo and what needs to be behind it.
http://www.travelweekly.com/Editorials/Thumbs-up/
And coming in the Traverse City Record-Eagle in SEP...the basics of the Rockne wedding and honeymoon..."G" version-
Weddings and Honeymoons; Then and Now
The wedding season is coming to a close on the beaches and in the vineyards of Northern Michigan...and shifting elsewhere. Destination weddings on the beach in Montego Bay, on the beautiful grounds at Silverado in California's wine country, or at Walt Disney World's Grand Floridian with Mickey and Minnie standing up as witnesses. Or just low-key ceremony at home and a focus on an over the top honeymoon- an over the water bungalow in Tahiti, a luxury suite on Lamu island off the coast of Kenya, or an oceanfront room at Hilton Hawaiian Village with that iconic view of Diamond Head from your lanai.

Of course, once upon a time...Jana and I did it all. We were married in Wheaton, MN June 14, 1975. I guess you could say it was a destination wedding- Wheaton is the duck hunting capital of West Central Minnesota. The 20 foot tall mallard right there on highway 75 across from the old co-op filling station testifies to the fact. From the reception at the American Legion Hall we made our escape to the Holiday Inn in Alexandria, MN (giant statue of Ole the Viking). One night there and then it was on to my father's cabin on Lake Lida near Pelican Rapids (world's largest pelican) for a couple nights. Then it was up to Fargo and on to Winnipeg and our Wardair Canada flight to London.
We arrived at London Gatwick and immediately set off for Ramsgate and the hovercraft to Calais. For a wedding gift, a high school friend and neighbor had given us the key to her apartment in Paris as she was home in the States for the summer...and promised her French boyfriend Simone would stop by to guide us. The train from Calais brought us to Gare du Nord and Le Metro took us to nearly to her building. The key fit...c'est magnifique! Simone called and came to pick us up the following morning. If there had been Facebook back then, I imagine Simone's page would have focused on smoking and reckless driving. He had mastered both. But he took us with pride to see the Eiffel Tower, the Arc du Triomphe, and Versailles. Then the reality of our backpacks and plans to hitchhike south. Orleans, Argenton-sur-Creuse, Carcasonne and the Spanish border at La Junquera riding in truck cabins. We crossed into Spain. From a perch in yet another truck, Jana saw the Mediterranean. It rippled and winked in the sun. She informed me that she, possibly we, were stopping right here. It was Calella de la Costa...just north of Barcelona. We followed the road to the sea, found a pensione, and set up shop for about a week. Sun, adventurous dining, and the excitement on the Spanish beach.

We continued down the coast by train. We bought tickets, but no seat reservations and wound up on the floor between cars with some other backpacking Swiss from Calella to Barcelona and all the way to Torremolinos. More time in the sun there. Finally, on to Algeciras close by Gibraltar and our most unique honeymoon accommodation. It was like a high school gymnasium, divided into a multitude of small rooms. The walls were about seven feet high, but there was no ceiling! I converted Spanish Pesetas into dollars the following morning and realized we had "enjoyed" a bargain- about 87 cents for the night. We sailed for Morocco.
We reached Tangier and prepared to embrace the exotic. When the train was sold out, we hired a group taxi with others to Rabat and on to Casablanca. When Jana craved a familiar treat, I returned from the souks...with a jar of Skippy peanut butter. Did not see Rick, but we went to a pool party at the U.S. Consulate with some folks we met, drank wine and ate snails. We flew Royal Air Maroc back to London via Lisbon and spent a few days seeing theatre before the return trip. Bloody good.

What can I tell you, the Wheaton blessings and the honeymoon adventure continue to sustain us...now 36 years and counting. So, how are your vows and honeymoon in Cancun, the Canadian Rockies or Drummond Island serving you? If you're planning a wedding make your beginning special!
Check this out from Travel Weekly-
http://www.travelweekly.com/Arnie-Weissmann/China-s-impact-on-African-resources-(tourism-included)/
Yes, Arnie Weissmann comments on the Chinese in Africa...and I saw it firsthand. The Chinese middle class is growing...and traveling...and that their expanded horizons are a good thing all around.
Uganda and Kenya with Acacia Holidays!
I spent two weeks in Uganda and Kenya in May to check out the Acacia Holidays operation, visit some new lodges and camps as well as some new to me, and to again be thrilled by the vast vistas and plentiful wildlife that make East Africa a must for so many. So from Murchison Falls and the Albert Nile to Tsavo East and, of course, the Mara- I have been on the move. I'll soon add some photos, but the highlights would have to include seeing lion, leopard and cheetah; both Mt. Kilimanjaro and Mt. Kenya fully exposed in bright sunlight; and the Ugandans and Kenyans themselves. Industrious, eager for interaction, and always smiling. From the new Satao Elerai Camp in a conservancy adjacent to Amboseli, to the nearly completed Sleeping Warrior Lodge south of Nakuru, I am percolating ideas for you and your clients. I'm looking forward to sharing some stories, details on Acacia Holidays handling (just what happened when the wheel bearing gave way somewhere northwest of Narok?), and how we can together assure your clients enjoy the safari experience they are dreaming of.


| | | |
| --- | --- | --- |
| | | |
| Cheetah on the hunt in the Mara | Tom at the wheel...very dangerous | |
From Traverse City Record-Eagle
A sneak peek at comments to be published my Travel Bug artcle in the Traverse City Record-Eagle later this month:
Potpourri for $600, Alex
Once in awhile, you have to clean house- at least to go through and recycle those Popular Mechanics from the 90s. Once in awhile you have to clean out the garage to make room to finally get the car back in there. Once in awhile Jeopardy has that Potpourri category...and this is mine. I've been pleased with the e-mails and calls following up on my last several columns. I'll share thoughts on some questions you have e-mailed me as well.
***
What's the story on high airfares from and to Cherry Capital Airport?
The air schedules in and out of Traverse City are significantly seasonal- driven by peak inbound demand over the summer. It's a fact that Cherry Capital serves a modest population base with limited significant business travel generators (i.e. full fare, last minute travelers). Fares from Grand Rapids are lower due to competition from "low cost" carriers (not sure that name really applies; I think carriers like AirTran simply have a different business model than worldwide network carriers like Delta, United and American), a much larger population base, and significantly more business travel demand. Yes, it's sometimes "cheaper" to drive to Grand Rapids or other points south; but at the same time, there's a tipping point at which making the drive doesn't make sense. That needs to be identified and carriers approached about getting TVC origin fares closer to it and boarding more traffic here at a slightly lower rate, as it's traffic that they are mostly losing to other carriers down south.
I know Cherry Capital Airport Director Steve Cassens, Chamber President Doug Luciani, CVB President Brad VanDommelen, and others have been brainstorming for some time on this. I don't see government intervention as a viable course. First, it's work with the carriers already invested here- Delta, United and American; then explore other options if need be, being very careful not to invest incentives on a short term fix that can "fly away" as any seed money runs out.
***
Is "Pure Michigan" dead?
I hope not, in spite of the inaction of the lame duck legislature as I write. I think it's been a very positive driver of traffic to the state. We certainly see that here in the Grand Traverse region. I'm hoping that as Governor Snyder joins with the new legislature in offering incentives to bring corporations with jobs to Michigan, they all see advertising for visitors in the same light. Put it on billboards in Chicago and Cincinnati, TV in Dallas, and "tweet" it too. Come see our beautiful beaches, vineyards, and more. Bring money! That powers job security right here on Front Street in Traverse and across the north from Elk Rapids to Frankfort and beyond. Hey, how about Tim Allen for Grand Marshal of the Cherry Festival Parade in July? Pure Traverse City!
***
Where's the best vacation value yet for this winter?
As always, finding the sun at a value means going where the crowds seem to be shying away from. That may be Jamaica due to some unrest there- virtually all in Kingston- earlier this year. The war that the Mexican government is waging on the drug cartels certainly has violence in Mexico in the news. Again, it's largely contained along the border and in northern Mexican states, but Cancun and the Mayan Riviera has not escaped totally. If bookings are impacted and don't come early for 2011, look for bargains in January. Hawaii has also been weaker than the norm due to the economic situation. Look for continued offers from Delta Vacations and others. If something even further afield is on your short list, remember, it's summer in Australia and New Zealand, as well as South Africa and Argentina- all those great destinations in the southern hemisphere. And finally, consider off-peak Europe. Minimal sun, but February is a great time to see theatre in London and walk right in to peruse the Crown Jewels. No sweaty summer crowds!
***
"Egg Management Fee"
A recent study by Amadeus Global Distribution System and IdeaWorks noted that the world's airlines will collect approximately $22.6 billion in ancillary fee revenues in 2010. Nearly a $10 billion increase over 2009. Ancillary fees are generally fees for things that used to be included and free. Thousands of airline analysts are at work right now looking at ways to turn this revenue stream into a raging torrent. As you may be aware, you can now pay for a pass into an airline lounge, pay an additional fee to purchase a ticket at the airport, pay for an aisle seat, and pay for priority boarding. Really, don't even think about taking the dog. And brace for impact... Carriers are looking at aircraft with no seats- just something to lean against- for short-haul flights (Europe's RyanAir has speculated on this for Dublin - London), paying for all carry-on baggage (Spirit Airlines already moving here), and, of course, pay toilets (RyanAir has floated this idea already as well). I don't think United is running those "Friendly Skies" ad any more.
***
Back to the "Old Country"
I had a nice response to a recent article on tracing and enjoying your ancestry by traveling back to those places that had played a role in your family's past. It's not just for Norwegians. Everyone has a story. Thanks for the e-mails sharing your stories of "going home" to places you had never been.
And it has me thinking about wide-eyed Robert Bovaird, fresh out of high school in Estherville, Iowa...motorcycling messages for the Signal Corps as a part of the American Expeditionary Force in France in 1918 and catching a glimpse of Black Jack Pershing. Young Bob was my grandfather. The Boisvert (roughly "Greenwood") were Huguenots who fled Catholic France to what is now Northern Ireland and then generations later to Iowa and up to Dakota. I'm re-reading what I have on my mother's family history- and a trip to Northern Ireland and France could be in the offing.
***
Up in da Soo, eh
My wife and I went over to the "other side" this fall. That's right, with two other couples we went east to stay at a cabin on the shores of Lake Huron. We watched the freighters pass and hiked trails... And we didn't stop there. We drove north for the day and crossed the international bridge for a day in Sault Ste. Marie, Canada. It was a smorgasboard of adventure. We started with a little light lunch at The Docks Riverside Grill overlooking the locks themselves, followed by a couple of men vs. women pool games in the adjacent sports bar. A pitcher of Labatt's; the Eskimos and Roughriders on the tube; and the waitress comped the pool with a "thanks for stoppin', eh". Then we moseyed down to Reggie's for the saturday "senior matinee"- the live band plays from something around 3:00PM to 6:00PM. Reggie's is a modest establishment, but it has a unique atmosphere- sort of Mel's Diner with alcohol and a live band. We bought tickets for the "meat draw" hoping to win a ham, played some "slide-ass gin", and danced to Hat Trik with a talented Randy Tucker out front. Jessie, in chains and leather, oversaw everything from his perch behind the bar. Reggie looks like he could be on some kind of "watch list". It appeared to me that if you needed to find something or get something- anything- done, Reggie could be your man. And he could keep quiet about it. It was an off-beat treat. After yet another short walk down Queen Street looking for a meal, we arrived at Arturo. I'm pretty much a "food is fuel" guy. Comfort food. Tastes good; eat it; move on. I'm still talking about the meal at Arturo. I can't describe it like a food critic would, but my "special" was a chicken breast stuffed with something like prosciutto. Awesome. Arturo came by to check on us...and son Tomas (the women swooned) deftly handled our order...and kept our wine glasses full. I can tell you one restaurant outside the area that I am certainly returning to in 2011- Arturo, when we go north to ride the "Snow Train" in February. www.arturo.ca
***
Keep traveling... See you at the airport!


From Travel Weekly

Check out Richard Turen's comments on his favorite clients in this Travel Weekly article- and note my comment about two experiences I had back in Fargo.
http://www.travelweekly.com/article_ektid224976.aspx
This is the Travel Bug as published in the Traverse City Record-Eagle 18SEP10.
Explore your heritage, no matter where it takes you
All of us are interested in our heritage to one degree or another. We like to look back and shrug at the fact that great grandpa was a county attorney ... and part-time bootlegger.
If there's good news back there, we've got something to talk about; if it's a little sketchy, we can keep it to ourselves or share it quietly at the appropriate time.
My father, Glen, was of full-blooded Norwegian ancestry. That means all sorts of relatives named Ole and Einer, a fondness for herring and all gilled animals and yummy things like blood sausage and dark goat cheese. With aunts and an uncle who grew up speaking Norwegian at home, the stories were many. Each contained a kernel of "truth" around which numerous details changed depending on the storyteller. To get to the real truth or to confirm the romantic truth, making a trip back to the "old country" is often on our respective "bucket lists."
I met both Ingrid Skyrudhaugen (say SHE–rude-how– gun) and her daughter Inger- Elsa Kjustad (say SHOE-sta) at a large extended family gathering at Aunt Luella's house in Portland, N.D. when they visited from Norway in about 1966. Ingrid was the cousin of my grandmother Gudrun Caroline Bergersen. Ingrid had stayed in Kongsvinger when my grandmother came with her family to the States in 1908. Inger-Elsa and her husband Tore (say TOR-e) lived in a farm community east of Oslo called Fetsund. Ingrid confirmed two stories in Portland. Yes, when Gudrun left for America the boys in Kongsvinger were all sad. She was the girls champion ski racer and quite the quick-witted beauty.
I just have a hard time thinking of grandma as a "party animal." Ingrid also confirmed that she slammed the door on the Nazi occupiers when they knocked on her door in 1942 looking for fresh vegetables. She said, "You have my husband working on the trains and I haven't seen him for months. I have nothing else for you."
I made my first trip to Norway in 1972 and it was a memorable one. I had been backpacking across Europe through Germany, Austria, Switzerland and France to meet a friend, and then finally up to Copenhagen.
I took the ferry from Copenhagen to Oslo and arrived in the early evening. I called the phone number for the Kjustads and Inger-Elsa answered.
"It's cousin Tom from America," I explained.
"Where you are, Tom?" she asked.
"I'm at the train station in Oslo."
"Stay there now in front and we will come to you,"she advised. I did. And sure enough, 45 minutes later, she and Tore arrived to pick me up. With their daughter Hanne and son Christian, we visited Ingrid in Kongsvinger and had a picnic and some aquavit. We camped by Lake Mjosa and had some aquavit. We toured Holmenkollen and had some aquavit. Very refreshing!
I was back in 1974. This time I alerted them to my impending arrival with a postcard from Greece a month or so in advance. I took the train out to Fetsund on my own and just came walking up the road to wave at Tore who was mowing the lawn. We returned to Kongsvinger. We had some homemade brandy — to help wash down the herring and gjetost (goat cheese). We visited Hanne's class in school as they sang "Ja vi elsker," the national anthem.
My Rockne ancestors led by Lars Mikkelson Rockne came over from the Stor (large) Rokne farm outside Voss in 1850 initially to Woodstock, Ill. and then on to Winneshiek County, Iowa and then up to southern Minnesota and North Dakota. I think maybe those with the most to distance themselves from went the furthest.
Lars' son, Bard, known as Lars Lewis, (my great grandfather) went up to Traill County, N.D. Knute and the Notre Dame fans came from the adjacent Vettle (small) Rokne farm in 1883. Somewhere back there, we're "cousins," though my branch are Gopher and Spartan fans.
In the late 1980s I took Glen to Norway. Apart from his duty in the Aleutians during the big war, Glen did not stray too far from pheasant and grouse ranges in Minnesota and North Dakota. We flew to Copenhagen and on to Oslo. With Inger-Elsa, we went to his mother Gudrun's hometown of Kongvinger, where he pulled a few stones from the Glomma River.
We went to Voss, where all the Rocknes came from. Glen hugged the Knute Rockne statue; Glen put his face next to Knute's and mugged for the camera; Glen discussed the forward pass with Knute. He picked up some stones from the base of the statue. We went out to Stor Rokne where he gathered stones from the ancestral farm. He loved every Norwegian moment. Later those stones were spread at his lake cottage shoreline in Minnesota to mingle with the locals and be forever together.
In the mid 1990s, my wife, sons and I went to Norway for Syttende Mai, the 17th of May commemoration of the constitution, dissolution of union with those Swedes in 1905 and Haakon VII's ascension to the throne.
While Sweden went on to give us ABBA, IKEA and Bjorn Borg, Norwegians have triumphed with North Sea oilfields, Herring Helper and countless Olympic medals in cross-country skiing.
Tore and Inger-Elsa and family came in to Oslo for the big day in their "Sunday best" and we were in our typical California casual. The parade down Karl Johan's Gata was wonderful. Even more so when at the appropriate moment we fell in behind the marching band from Lillestrom and became participants. Right toward the Royal Palace, right in the gates, and right under King Harald V and the rest of the Royal Family reviewing the festivities. I'm not certain, but he pointed and I think he yelled, "There's the Rocknes" as we strode past.
Bottom line, whatever your heritage, explore it ... and know that you won't be disappointed by "returning home" to get a better feel for it. If you have contacts, that's great. No matter how "shirt-tail" the relationship "cousin" fits.
If no relatives are known, use what you have — a hometown, a province, a story of any kind. Whether your search takes you to Italy, Alabama or the U.P. it will be a thread worth pulling. If you need a pointer on where to start, just let me know.
So, pass the herring and "Alt for Norge!" See you at the airport!
And let's keep this one in from June...as many of you have responded to it.

Germs Around The World!
Recently I read an article in the travel trade press about the most germ-infested travel sites around
the world.
I'm not sure who would put together such a list or why, but the listing included the following:
Oscar Wilde's tomb. Located in Paris' Père Lachaise Cemetery, the weird tradition is to kiss the stone atop the tomb. Lipstick of all shades applied by both women and men cover its surface.
Messages written in lipstick and otherwise attached are also prominent. There are gifts as well, some small bottles of liquor. There are other small vials of unidentified offerings.
It was Wilde who wrote in "The Importance of Being Earnest," "I never travel without my diary. One should always have something sensational to read in the train."
He, of course, thrived on sensation both then and now. As an aside, I would suggest that the grave of Jim Morrison (Doors' lead singer) in the same cemetery is a worthy rival. A bit less lipstick, but the array of bizarre trophies was especially concerning on my last visit.
There's more at Pere Lachaise as well — Chopin, Balzac, Moliere and others rest there. Stop by for a visit. They're always home.
Graumann's Chinese Theatre. Right there on Hollywood Boulevard are the footprints, handprints … and few other sordid prints as well of nearly 250 famous and forgotten stars of stage and screen (mostly screen).
And every day tourists are placing their hands and feet in them and faces in proximity to them as well. That's to the tune of well over 4 million folks annually. Did I mention that this is on the portion of west Hollywood Boulevard that is frequented by hundreds of street people at night?
Placing your hands along with thousands of others may close the gap to two or three degrees of separation from Kevin Bacon, but you're hand in hand with every bacteria and virus known to man. Be sure to rinse and spit! They do get out the power-washer and mops daily.
Oh, there's Clark Gable! And John Wayne! You may have to explain just who some of these folks are to your children and grandchildren.
Piazza San Marco in Venice. It's the pigeons ... thousands and thousands of them. And with pigeons comes … you know … the primary production of pigeons that covers all of the statues in the vicinity and the occasional tourist as well.
Of course, I have photos of myself, my wife and sons "feeding the pigeons" in the square. They are on our hands, shoulders and heads. We are not so much feeding them and they are feeding on us. Of course, they left their mark on us as well.
I understand that they are trying various methods of reducing the problem. I believe they are restricting the sale of pigeon food sold by the bag. This may be a step in the right direction, but, of course, all food is pigeon food.
They are also sounding some type of high pitched pigeon scaring noise that is not discernible to humans. I'm not sure who first called them "flying rats," but it can be an apt description. If there were only a piazza with hummingbirds. Just Google this one.
Trafalgar Square in London, Syntagma Square in Athens and most other major open spaces worldwide have a similar challenge. I have to say I do not remember that at Tiananmen Square in Beijing. Of course, pigeon is on the menu at numerous restaurants around the square.
Market Theater Gum Wall. Leave it to Seattle to deliver the quirky. Adjacent to Pike Place Market, it began in the 1990s as the line for the Market Theater wound into Post Alley and those waiting did what the bored always do — find a way to amuse themselves.
As they waited, they fought off their coffee breath with gum of all flavors. When the gum lost its taste, it wound up on the wall. The City of Seattle has cleaned it up more than once, but seems to have called a truce and is letting the wall "live" at this point. And it certainly seems to be alive, especially on a hot day in August.
It's inches thick at this point. Destroying this art could truly be a sticky situation. Is that a huge wad of Clove? Do you see any Black Jack?
www.theseattletraveler.com/the-gum-wall-of-seattle.
The Blarney Stone. Right there at Blarney Castle in Ireland where the gift of eloquence comes at the risk of picking up a bug or two.
Something like more than 400,000 folks kiss the stone each year or at least pay admission. Do the math. If they're open 12 hours a day 365 days a year, that's over 91 busses per hour.
Considering that you have to lean backwards holding a railing to kiss the stone, I can only imagine the frenzy before the pucker. This is especially dangerous if the night prior to your close encounter with "the stone" you had a head-on collision with several pints of Guinness and a bottle of Old Bushmills.
That must be why every once in awhile the stone is off limits for a few minutes as they "freshen it up." When I finally visit, I'm planning on just blowing the stone a kiss and having a slow dance with Miss Blarney herself.
I have a few recollections of some out of the way places that could make the list and I'm guessing that you do, too. I guess toilets shouldn't count as you expect some challenges there whether you're outside Xian or at that old Texaco station in the Upper Peninsula.
I remember someone emerging from the room they were directed to in Chang Mai and advising our guide that the room she was directed to was not actually the toilet as there was no toilet in there, it appeared to have been de-installed.
When advised that the room was indeed the toilet and that she should look for the footprints … she got the idea. That's why your fannypack should always carry a tissue and waterless hand cleaner.
As always, I invite your comments and stories of your exploits. Just try to keep it clean. See you at the airport.
Tom Rockne is a 35-year travel industry veteran and currently operates his own consulting company, Tom Rockne Travel Resources. He can be reached at tomrockne@gmail.com.
Here's the story from the Midland Daily News on the work underway on behalf of MBS International Airport serving Midland, Bay City and Saginaw, MI.:
http://www.ourmidland.com/news/article_93abc5fd-fe4b-5dd3-8b94-43ce186865fc.html
.
Also added a comment to Travel Weekly Editor Arnie Weissmann's May 3 "From the Window Seat" article on "Cemetourism".
http://www.travelweekly.com/article_ektid213842.aspx
. Enjoy! This one may be a bit narrow, but it can be a real treat.
You'll notice that on the Home Page I'm open to making your next golf group a winning event from the start. As you may know, there's great golf in Florida, Arizona, California...but don't forget Alabama, Michigan and more. I'm watching several things near my hometown of Traverse City. Manitou Passage, the former King's Challenge, in Leelanau County has undergone some very significant work. The Loon near Gaylord has added overnight accommodations that look great and can accommodate 8 to 12 in a four bedroom unit with two pull out beds in the two living areas. I was at The Loon with a small group of eight June 12-14 and the accommodations were great. The course great fun. The service excellent. Contact me for the answers to all your questions. And remember, Arcadia Bluffs continues to be compared to Whistling Straits...over on the other side of Lake Michigan. Stay tuned.
And here's the link to the Forum article I wrote for Travel Weekly's 15FEB10 issue-
http://www.travelweekly.com/article_ektid210242.aspx.
As of 18MAR10, no carrier has contacted me to embrace my baggage guarantee proposal. I'm keeping my eyes and ears open. I can advise Jon Nicholson, President of ZEGRAHM & ECO Expeditions shared his observation that Alaska Airlines has made some real strides with baggage and guaranteeing its arrival. That's good to hear. He suggested checking- http://www.alaskaair.com/as/www2/promo/Baggage-Service-Guarantee.asp for more info. Please do. I also heard from a host of former NW "red-tail" veterans of the 1982 IAM and other strikes. Plenty of stories there. Included in that group was Mike Premo, Vice President Marketing, Sales and Customer care at ARC. He was in Boston. No word on what he may have done with those Europe bags I sent his way.
However, yesterday (2JUN10) one of the new proposed DOT regulations notes-
• require full and prominently displayed disclosure of baggage fees as well as refunds and expense reimbursement when bags are not delivered on time
The "refunds" part of that sounds very good to me!


Coming soon... Additional comments about travel issues today...and some remembrances of past adventures from Kangaroo Island to Timbuktu, Xian to Antarctica. This Travel Bug column (edited to omit the scratching comment ) appeared in the Traverse City Record-Eagle's Outlook section on 27MAR10. Nothing like baseball memories and taking that trip, of whatever length, to the old ballpark. Here you go...
Crack Out the Pine Tar! It's Time to Play Ball!
Spring training is concluding and the boys of summer are ready to go. The "battery mates" reported to Grapefruit and Cactus League spring training complexes a couple of months ago already. They needed to get all charged up, get their signals down for those touchy situations when the sacks are full and you don't want anyone to know you're going with your best heater right down the pipe. They gnawed on a few pounds of sunflower seeds and made sure this wasn't the year they moved up to cashews, honey-roasted peanuts, or smoked almonds. It didn't happen. They don't leave you any ammo for spitting. And spitting, along with the fine arts of scratching (oh, the scratching) and knocking your bat against your cleats are key indicators of major league talent. All those multi-millionaire .260 hitters showed up later in their crisp uniforms and struck powerful and ominous poses in promotional photos for various gels and balms as well as high end colognes and vehicles. They generally reported late as those of magnitude sometimes do and were held out of the everyday line-up nursing various parts that were "tender" and "experiencing tightness". They didn't want to expend too much effort before it really counts. Young phenoms and retreads tried to make the team. They made every effort to hustle and get their uniforms dirty. Sweaty and dirty are good indicators of hustle and keen ability to coaches who were watching the young female talent in the stands a bit more closely than they were watching the shagging of fungos to the field. As always, the talent has been honed and the starting line-up is now set..
My first team was the old Fargo-Moorhead Twins of the Northern League. They played at Barnett Field on the north side of Fargo right next to the fairgrounds. Across the street on Broadway was the "best house in Fargo"- two stories, flat roof, looking right over the fence into right center. Lawn chairs on the roof. Sweet! That was my first dream house. My favorite player was our home-run hitter, Joe Pepitone. "Pep. Pep. Pepitone" was the pleading unison cry of the knothole gang- at least when we weren't winging Black Crows into the bullpen or eating a course of our Barnett Banquet of hot dogs, cotton candy and little tubs of Cass-Clay ice cream. Joe, of course, left Fargo for the Yankees and later the Cubs. I knew him when… Fargo's own Roger Maris had played for the Twins at the start of his career. Any baseball purist can tell you that "61 in 61" is still the home run record. No cork. No steroids. The F-M Twins started out as a Cleveland farm club and then became a Yankee club. They played the Minot Mallards, Aberdeen Pheasants, and the Winnipeg Goldeyes among others.

When we chose up sides for a game of our own at Knapp Park in the late 50s, it was always the Yankees versus the Braves, yup, the Milwaukee Braves. The ABC outfield along with "Spahn, Sain, and pray for rain" against the pinstripes. In 1961 the Washington Senators abdicated the District, applied for fishing licenses, and became the Minnesota Twins. I rode a school bus from the Y in Fargo down to Metropolitan Stadium's top deck to see tiny little men a mile away named Killebrew and Allison and Lemon. There were lots of people there. I was a little disappointed though, as I don't think a single one of my Black Crows made the field- and I must have tossed two boxes!.
Later, I actually followed Pepitone…and the Cubs, Yankees and Twins are still my favorite teams today. To me, there's nothing like the Cubs at home at Wrigley. Left field bleachers of course. Smell the fresh-cut grass, the dogs cooking on griddles on Waveland and Sheffield, the stale beer of decades on the concrete. Gotta have a Frostie Malt and a bag of salted in the shell peanuts...and maybe some Black Crows if they have them. Of course, this is definitely the year for the Cubbies; but if not, next year for sure.
I suppose I should get down to Comerica and see the Tigers. I remember Kaline and Cash…Denny McLain, the Bird and my favorite, Mickey Lolich. I remember Lolich as just a little overweight, rumpled- like they just woke him up to come into the game. I'm guessing he was always the first into the clubhouse to see if there was any cold pizza around for a post-game snack. Maybe this is the year. And in the back of my mind is a double treat trip to Yankee Stadium and Fenway Park. Ideally, one of those rare weeks where the Yanks and Bosox play each other back-to-back. Of course, a baseball trip to any park is a treat for a real fan. That's from an evening right here in Traverse to cheer the Bums, sample a dog with everything and check out the antics of their wacky mascots...Sunstroke...and I forget the other one's name; to your decades long dream fulfilled with a visit to Pittsburgh to see the Bucs take the field as you replay the Mazeroski 1960 series clinching homer in your mind.
So make this your year for baseball memories. Every team is undefeated. Every dream is possible. Every fan is hungry. So, let's "Play Ball!"


And here's a short article I wrote for the Record-Eagle some time ago about my first experience with EgyptAir.
Quite a flight!

Customer Service…from Tawfik…all the way around.
Everyone has an airline story. Most frequent flyers have several in each category- longest delay, lost baggage, most bizarre seat-mate, and, of course, the catch-all "Flight From Hell" file. But there are some great stories of fun and discovery out there too.
I've flown on thousands of flights- including many on airlines that no longer exist- like Eastern, Western, Southern, Pan Am, TWA, and more . And a host of foreign flag carriers from Royal Air Maroc to FAT (Far East Air Transport in Taiwan) to Air Kenya to Cyprus Airways. Here's one of my stories from the file.
Before MBAs developed MBOs and invented cross-utilization and multi-tasking, I experienced it firsthand in a fairly unlikely place- on an Athens to Cairo EgyptAir flight during the summer of 1974.
I visited the EgyptAir ticket office in Athens, as a young teacher and back-packer, I advised that I could be a teacher, a student, and the most flexible of travelers…if only there were a very cheap one-way seat available to Cairo. I had a visa. I could depart anytime. The gentleman at the desk advised me to come back at closing…6:00PM. When I returned he motioned me to his desk for some mint tea…and a very special offer…$40 US for a one-way ticket to Cairo…departing at 10:00PM. It was a cash transaction.
At the EgyptAir ticket counter chaos ruled. There were the requisite ropes to herd passengers, but they were soon pushed aside.. There were no lines, just a pungent crush of humanity incredibly eager to get to Egypt- each for their own reasons. There were signs for Ticket Purchase, Check-in and Inquiries, but they were ignored by the shoulder to shoulder sea of jostling passengers. Some waved, nodded and shouted…others inched forward herding impossibly large boxes and bundles…a forwarning to the cargo hold and overhead bins alike. Moving deftly at the counter was the green-jacketed , name-plated Tawfik. He was calmly and rapidly somehow sorting passengers in his mind and processing them with his hands. He carried on two or three conversations with those closest to the counter and shouted answers to those further back shouted questions. He tuned out all the extraneous noise. The order here was in his mind alone. I swam forward quite well and with only a backpack to check, Tawfik handled me with ease. "Welcome to Gate 34", he smiled.
I stopped for a Coke in route to the gate. When I arrived, Tawfik was there, now resplendent in a red jacket ad ready to handle the boarding process. The crowd had again taken its position, all within ten feet of the boarding door. The command for First Class to board was made…and all classes democratically pushed on. Again, virtually swept along, I handed my boarding pass to Tawfik. "Welcome on Board", he nodded.
I found my seat in the rear of the aircraft and took out my Cairo map . I just needed to review the airport to city center directions and distance as well as the "musts" on my list of things to see and do in Cairo. After take-off, as I was sketching out my plans for Giza and Sakkara, the beverage cart worked its way down the aisle. Yes. Tawfik. He was in a white jacket, pouring the finest soft drinks and sharing Egyptian candies. "Coca Cola", I said. "Yes. Very good. Welcome.", smiled Tawfik.
I read. I planned. I dozed. I dreamed of Tawfik. I awoke. It was Tawfik, now in a Navy Blue jacket. "Duty Free?", he asked? I bought some Marlboros for trade and gifts- cigarettes were a proven currency at that time nearly everywhere in the third world.
Nearly at the stroke of midnight, we landed in Cairo. We taxied to the gate. As the plane emptied, I approached the front of the cabin to depart. Tawfik was back in his red jacket. Hmm… Was that the world's first four-way reversible jacket, or did he have his own closet on board? At the door. "Welcome to Cairo. Welcome in my country.", he beamed. "Thank you so much. I'm pleased to be here", I responded, "You did a great job". "I am thanking you so much", and he bowed.
I claimed my backpack and went out into the dark heat. I found an EgyptAir shuttle to downtown Cairo just outside of baggage claim. I peeked in to see if Tawfik was at the wheel. It was his night off.